Sick leave in NI public sector costs economy £149m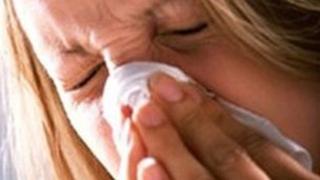 Sick leave in Northern Ireland's public sector cost the economy about £149m last year, the Audit Office has found.
The latest figures released by the office show the level of absenteeism has gone down across the civil service and health and education sectors.
However, targets set out in the executive's programme for government were not met.
The majority of those absent are off due to long-term illness.
Mental health issues are identified as being the main contributing factor.
Between 2010 and 2011, sickness cost the health trusts an estimated £73m; the education sector £46m and the civil service £30m.
The Department of Health suggested that the spread of infection and the demands of shift working were contributing factors.
Only three health and social care trusts achieved the target of 5.2% of working days lost between 2010 and 2011.
Teachers' sickness absence rates stood at 7.3% in the same period and 7.2 days per teacher between 2011 and 2012. This fell short of the target of six days.
The report recommends that targets for sickness absence should be reintroduced in health trusts and should include specific targets for long-term sickness absence levels.
In education, the report said those targets should be extended to include overall sickness absence levels and sickness levels for non-teaching staff.
According to the auditor general, as the public sector represents around 30% of the total labour work force, its health and well being is crucial to the effective delivery of public services.
The head of the CBI in Northern Ireland, Nigel Smyth, said that while year-on-year progress was being made, significant work remained to be done and significant savings could be achieved.
"We continue to have much higher sickness absence levels compared to the public sector in Great Britain, and significantly higher than in the private sector," he said.
"According to the Office for National Statistics, as a point of comparison, the average number of days lost to sickness across all UK workers in 2011 was 4.5. It is therefore vital managers in our public sector seek to take further steps to bring Northern Ireland much more into line with national norms," Mr Smyth added.
"In the context of constrained public sector budgets, the loss of £149m in 2010-11 on account of sickness absence is simply unacceptable and unsustainable. Reducing sickness levels to GB norms will save nearly £40m per annum."