Monsignor Eamon Martin is ordained in Armagh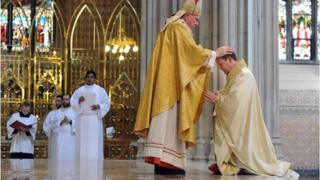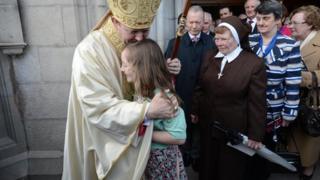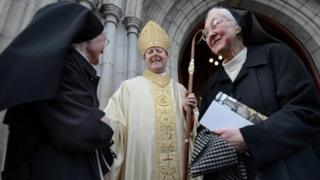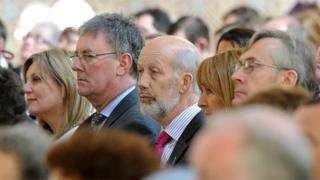 Monsignor Eamon Martin has been ordained as coadjutor (assistant) Archbishop of Armagh to Cardinal Sean Brady, the Primate of All Ireland.
He was appointed as coadjutor in January.
Monsignor Martin, 52, was inaugurated in Armagh on Sunday.
Northern Ireland Deputy First Minister Martin McGuinness and the Justice Minister David Ford, were among those in attendance.
Cardinal Brady will stay as Archbishop until at least 2015 but on retirement, Monsignor Martin will succeed him.
He is expected to face formidable challenges in the future, including dealing with the legacy of the sexual abuse of children by members of the clergy.
Monsignor Martin already has considerable experience of the challenge ahead, having served as a director of the National Board for Safeguarding Children - the watchdog body set up by the Irish church in response to the clerical abuse scandal.
Before his most recent appointment, Monsignor Martin had served as administrator of the Diocese of Derry since November 2011, following the retirement of the Bishop of Derry, Seamus Hegarty on health grounds.
The new coadjutor Archbishop was born in Derry in 1961 to a family of 12 children.
He served as an altar boy at St Patrick's Chapel in Pennyburn, close to their home.
When he was first unveiled as Cardinal Brady's likely successor, Monsignor Martin spoke about the influence of his large family, and the new cross and ring that he will wear as coadjutor Archbishop also bears a strong family connection.
The items have been made in his native city by Fallers jewellers and goldsmith Una Carlin has spent many hours designing and making the special commission.
She said: "Because St Patrick was the original Bishop of Armagh, Fr Eamon wanted to represent that within his own pectoral cross, so he chose the St Patrick cross of Carndonagh to be the main feature of the design.
"Carndonagh, which is part of the Derry diocese, is where his father was born, so it has particular relevance to him."