Cumbria PCC Richard Rhodes sorry for using chauffeur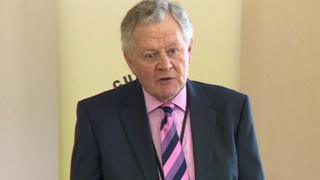 Cumbria's police and crime commissioner has apologised for using a chauffeur-driven car paid for by the taxpayer.
Richard Rhodes said he failed to check the cost of the car and driver before using it for the first time. It is claimed two trips cost a total of £700.
Cumbria Police have arrested three people in connection with leaking the information to the public.
Shadow Minister for Policing David Hanson MP said PCCs had "too much power" and "too few checks".
Conservative Mr Rhodes, a former head teacher, said he understood the public concern over the case and that he had paid the money back.
Speaking at the force's Penrith headquarters, he also said he was sorry that details of his expenses were not published until this week.
But he was adamant he would not comment on claims the police overreacted in making arrests.
Mr Rhodes, who earns £65,000 a year, said: "We are talking about breach of procedure here."
Asked whether the police actions were appropriate or proportionate, Mr Rhodes replied: "You must ask the chief constable."
'Embarrassment caused'
Referring to his expense claim, he said: "I apologise unreservedly to the people of Cumbria for the embarrassment that causes and for the situation that places them in looking at me as their police and crime commissioner.
"I fully understand that some members of parliament have seen fit to raise these issues.
"I understand absolutely where they are coming from. I'm not saying that it has absolutely anything to do with the fact that elections are taking place in two weeks' time.
"The facts of the matter are that I understand where they are coming from."
It was reported Mr Rhodes had arranged two Mercedes chauffeur-driven return journeys, costing nearly £700, to evening speaking engagements.
The three arrests followed a complaint by the PCC's office when it was approached by a newspaper for a comment relating to the expenses claim.
On Tuesday two Cumbria police staff members, a man aged 47 and a woman aged 50, were held on suspicion of data protection offences and misconduct in a public office.
On Thursday, a 54-year-old man was held on suspicion of perverting the course of justice.
All three have been bailed.
Mr Hanson said Home Secretary Theresa May should look into the case.
He said: "Labour has long said too much power is concentrated in the hands of police and crime commissioners, with too few checks and balances and too much potential for conflicts of interest.
"Policing needs to be impartial and seen to be impartial and the public need to be confident that there are no conflicts of interest involved."