Small protests in Northern Ireland mark Baroness Thatcher funeral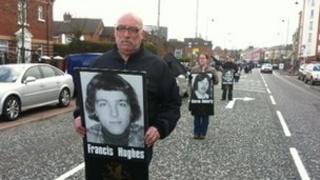 There were small protests in Northern Ireland as the ceremonial funeral of Baroness Thatcher took place in London.
There was a 'white line vigil' in west Belfast, organised by Sinn Féin.
In Londonderry, about 60 nationalists held a protest expressing anger over Margaret Thatcher's stance towards hunger strikers in the 1980s.
Graffiti criticising the former prime minister appeared on the slopes of Black Mountain outside Belfast.
West Belfast MP Paul Maskey said Sinn Féin had organised "white line/black flag commemorations to give people the chance to remember the hunger strikers and those killed through shoot to kill and collusion".
The mountainside protest reflected "how people feel", one of the people behind it said.
Gerard Kelly said the protest was "just another peaceful expression of how people feel here".