Cenotaph flag plans at Belfast City Hall need Alliance support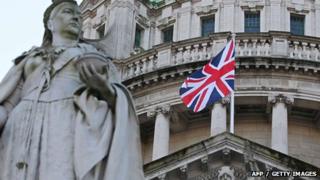 A proposal to have the union flag fly over the cenotaph in the grounds of Belfast City Hall is set to be rejected.
Unionists support the proposal, which was made by DUP councillor Lee Reynolds in December, when the council voted to fly the flag only on designated days.
It needs Alliance Party support to pass at next month's council meeting.
The party has indicated it is awaiting advice on the equality implications before making a decision.
It is understood the advice is that there would be equality issues if the flag flew every day over the cenotaph.
That is the same advice that was given over flying the union flag every day at city hall.
The BBC understands that the Royal British Legion has indicated it does not want the garden of remembrance being brought into the flags debate.
The Northern Ireland Conservative Party has previously expressed concern that putting a union flag 356 days a year on the Belfast war memorial could "diminish the flag and debase and politicise a place of remembrance".
One source indicated that there are proposals, including an Alliance request to the Department of Culture, that the union flag fly on 1 July to mark the Battle of the Somme.
Belfast councillors voted on 3 December to limit the days the union flag flies over Belfast City Hall.
Previously, the flag was flown every day.
The decision led to a campaign of street demonstrations by those opposed to the move.
Some of the protests have resulted in violence.
A number of police officers were hurt during disturbances, several politicians received death threats and homes and property were damaged.
Following the city hall decision, unionists attempted to push through a similar review extending the number of days the union flag is flown over Stormont's parliament building.
But the plan was blocked by nationalists and Alliance, who boycotted a meeting to discuss the proposal.
Other Northern Ireland councils, such as Down district, fly their own flags.
The Department for Culture, Media and Sport has designated 18 days on which the union flag is flown in Northern Ireland in 2013. It may also be flown during the opening and closing of Parliament by the Queen.