Father Alec Reid played 'vital role' for peace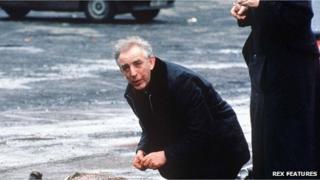 Fr Alec Reid who acted as go-between between the IRA and politicians, coaxing the Northern Ireland peace process into life, has died.
He was a Redemptorist priest and spent more than 40 years working at Clonard Monastery in west Belfast.
It was there he developed a close relationship with Sinn Féin president Gerry Adams and became a pivotal player in the peace process.
Go-between
On 6 March 1988, British special forces, the SAS, killed three unarmed PIRA members. Mairead Farrell, Sean Savage and Daniel McCann were planning a bomb attack in Gibraltar.
At their funerals 10 days later, loyalist gunman Michael Stone launched a gun and grenade attack in Milltown cemetery, west Belfast, killing three people and wounding more than 50 others.
Three days later, at a funeral for one of those killed by Stone, Corporals David Howes and Derek Wood were beaten and shot after driving into the cortege.
Fr Alec Reid was at that funeral in his role as go-between in secret talks between Sinn Féin and the SDLP to collect information from one side and deliver it to the other.
As he gave the corporals the last rites, what no-one knew was that he carried with him in a brown envelope was the seed of the future peace process - a letter from Sinn Féin to SDLP leader John Hume.
Later, recalling that day, he said: "I still had the documents I was to bring to the SDLP and there was blood on them... on the envelope.
"So I had to get a new envelope and I brought them down to John Hume that afternoon and gave them to him and told him what had happened, because I was late.
"And I remember saying to myself this is not the way for us to be doing business."
Alec Reid claimed no outsider had dealt with the IRA as much as him over 30 years.
"I always found their word was their bond," said the priest who claimed the organisation always treated him with respect even though they knew he did not agree with their campaign.
Fr Gerry Reynolds, his close friend and colleague at the Redemptorist Monastery at Clonard, west Belfast, said Fr Reid's big motivation in life "was to stop the next person getting killed and the only way to stop the next person getting killed was to in some way find a way of dialogue between the opposing parties."
He said Fr Reid began to believe that the great weakness in "the Irish struggle for self determination" was the division among nationalists, which he worked to end.
"It was around that theory that he built his own commitment to peace but his commitment was absolutely total, wholehearted, meticulous in his attention to detail and careful to ensure that the project succeeded," added Fr Reynolds.
Decommissioning witness
Former Presbyterian moderator Very Rev Dr Ken Newell described Fr Reid as a visionary: "The one who saw the first crocus in spring".
"He was a very, very quiet man. He was taking very seriously the conflict and was active in trying to promote some kind of dialogue," he told the BBC for the documentary, 14 Days.
"I have always seen him as an electrician. He took two wires where there was no current going across them, and he wrapped himself around them like tape and held them together until the current of communication began to flow."
Fr Reid's close relationship with the republican leadership made him a natural choice to witness the decommissioning of IRA weapons in 2005.
His fellow witness the Rev Harold Good described him as "dogged" and "stubborn."
"If he got something into his mind he would be like a dog with a bone, " he said.
"He wouldn't let it go and he would keep at it and that was true not only of his contribution to the peace process here in Northern Ireland but also in the Basque country where I travelled with him as well.
"There's another side of him which was totally delightful and sometimes almost a naivety, an innocence and he had a wonderful gift of friendship."
It was perhaps naivety that led him him into a row with the loyalist victims campaigner Willie Frazer in November 2005.
At a heated public meeting called to discuss decommissioning he told Mr Frazer: "You come from a community that should be absolutely ashamed of itself for the way it conducted politics in Northern Ireland for 60 years. You're in the same category as the Nazis as far as I'm concerned."
He later apologised saying the remarks were made in the heat of the moment.
The row undoubtedly sullied his reputation, particularly among unionists.
But for many others he will forever remembered as a man who helped end the seemingly unending cycle of violence in Northern Ireland.