Alert at Blucher Street, Derry, a hoax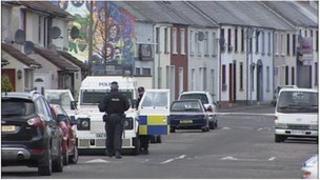 A bomb alert, which caused several houses in Londonderry to be evacuated on Tuesday, has been declared a hoax.
Police and Army bomb disposal officers were called to the scene at Blucher Street after the discovery of a suspicious object.
After examining the object, the Army declared it a hoax.
The road has now reopened and residents, who were able to stay at the Gasyard Centre on nearby Lecky Road, have been able to return.
Sinn Fein MLA Mitchel McLaughlin has condemned those behind the alert.
'Sad reflection'
Mr McLaughlin said it was a "sad reflection of the mindset of those responsible".
"This is just the latest incident of disruption and attempted intimidation affecting the residents of the Bogside over the past number of weeks," he said.
"I have one message for the individual or group responsible for these incidents - if you have any thought or respect for the proud people of the Bogside and Derry in general - stop these futile activities before they end in tragedy.
"The only thing you are achieving is the terrorising of elderly people and disrupting the lives of all residents. It's a sad reflection of the mindset of those responsible for these activities that they get some type of perverse satisfaction out of intimidating their neighbours.
"I urge them to desist from this mindless disruption of life in their communities and direct their energies towards positive community activity."