Cross-border cars could face clamping over unpaid parking tickets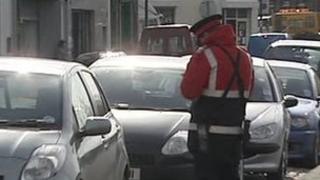 Drivers from the Republic of Ireland who fail to pay parking fines issued in Northern Ireland could soon have their cars clamped on their return to NI.
Roads Minister Danny Kennedy is to write to his counterpart in the Irish government, outlining new proposals to recover unpaid parking debts.
At present, drivers from the Republic are able to evade NI parking fines, despite a crackdown three years ago.
Over that period, southern motorists clocked up £646,692 in unpaid NI fines.
In March 2010, authorities on both sides of the Irish border agreed to share vehicle registration details to ensure drivers could be pursued for unpaid parking fines in either jurisdiction.
'Serious consequences'
As things stand however, southern drivers still do not face any punishment if they fail to pay a Northern Ireland parking fine.
Their cars are not clamped, Stormont's Department for Regional Development (DRD) does not employ debt collectors and defaulters do not face court proceedings.
Despite this, Simon Richardson, head of parking services at DRD, warned cross-border drivers that clocking up a collection of unpaid parking fines could have serious consequences in the near future.
He said department officials were working on plans to introduce clamping of Republic of Ireland-registered vehicles parked in Northern Ireland, in cases where the owners were found to have three or more outstanding NI parking tickets.
The three-strike rule is currently in force north of the border for drivers resident in Northern Ireland.
Mr Richardson added that under the plans, in order to get the clamp removed, the owners would have to settle all unpaid fines recorded against their vehicle since they registered it - records that could go back several years.
The possibility of court action is also being considered.
'Effective deterrent'
Mr Richardson said he estimated such measures were just months away from being introduced, but that they would require agreement and a reciprocal approach from parking authorities in the Republic.
He added that the three-year-old pilot scheme has been very successful to date and has proved to be an effective deterrent to illegal parking, on both sides of the border.
According to Mr Richardson, the number of Republic of Ireland drivers who had paid up after receiving Northern Ireland parking fine notices had increased by more than 50% since it was introduced.
He said that authorities in the Republic have also benefitted from the partnership arrangement, with increased compliance by northern drivers with parking fines and toll road charges when they cross the border.
"This sharing of information has moved the whole process forward and allowed us to improve the parking situation in all our towns, particularly our border towns," he told BBC Radio Ulster's Talkback programme.
However, the mayor of Newry criticised the proposals and said he feared it would deter cross-border shoppers.
'Disaster'
John McArdle said traders in Newry were "tearing their hair out" in the deepest economic downturn since the 1930s and he accused civil servants of "not living in the real world".
"Instead of encouraging people to shop, instead of encouraging people to come into our towns, to turn around and to clamp vehicles from the Republic would be a disaster," the mayor added.
But Mr Richardson reiterated that clamping would only be used in the case of repeat offenders who had ignored three or more written requests for payment.
A DRD spokeswoman confirmed that during that three-year pilot period, authorities in Northern Ireland have issued 28,932 tickets to cars registered in the Republic of Ireland.
Of that number, 6,795 tickets remain unpaid, equating to £646,692 in unrecovered debt.
In a statement to the BBC, a DRD spokeswoman said: "Since the cross-border agreement to share vehicle keeper details was introduced in March 2010, the number of RoI drivers who pay their parking tickets has more than doubled compared to the number who paid before the scheme was introduced.
"Also the number of RoI drivers receiving parking tickets in Northern Ireland since March 2010 has reduced significantly."
At present, as in Northern Ireland, parking ticket recipients from RoI can benefit from a 50% reduction in the standard £90 fine if they pay within 14 days.
However, if they do not take up the early payment option and the standard fine also remains unpaid, the fine will increase again, to a maximum of £135.