Antrim hospital: Staff safety concerns 'must be dealt with'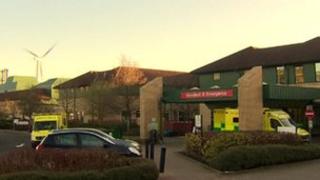 The Royal College of Nursing has said the northern trust management must listen to staff concerns about conditions in Antrim Area Hospital's emergency department.
Senior consultants described the department as "ineffective and unsafe".
Staff are said to have been particularly distressed at a child's death two weeks ago.
Garrett Martin said staff were under extreme pressure on the day in question.
"There was an increased number of attendances," he said. "It was the second consecutive bank holiday weekend.
"But what they are telling us is entirely predictable; this is what happens on bank holiday weekends - the system seems to grind to a halt. Another contributing factor is around the targets.
"There are competing targets around waiting lists for surgery. Those beds, at the end of the year, are being filled and therefore that leaves the capacity for emergency admissions to be reduced."
He said it was extremely important that all the trusts learn the lessons from what happened in Mid-Staffordshire "to make sure that that ... does not happen here in Northern Ireland."
The Mid Staffordshire trust was at the centre of a three-year public inquiry into "appalling standards" of care at Stafford Hospital, following concerns over high death rates.
'Improve'
An investigation is under way into the circumstances surrounding the child's death in Northern Ireland.
The patient had been transferred from Antrim to the Royal Belfast Hospital for Sick Children but later died.
The Health and Social care Board said the death would be the subject of a review.
"The safety of patients is of paramount importance and the board has been and will continue to work actively with the northern trust to help ensure that patients attending emergency departments have access to quality, safe and accessible care," it said.
"Whilst there has been a reduction in the number of people waiting more than 12 hours in emergency departments in the northern trust compared to last year, the length of time some patients still have to wait is unacceptable and the board expects to see a continued, concerted effort to improve the situation.
"For this to be successful, a whole system is required which involves teams throughout the hospital and in community settings, with the support of GPs, working closely together to improve the patient's journey into and out of hospital."
Ulster Unionist MLA Danny Kinahan said he was "appalled" at what had happened and urged the minister to put more resources into the hospital.
"There's an information gap, and there's a huge resources gap," he said.