Danny Kennedy will not appeal ruling on A5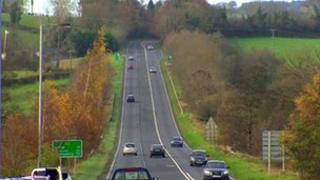 Regional Development Minister Danny Kennedy has said he will not appeal a judges's quashing of the decision to go ahead with a new £330m dual carriageway project.
Last week, Mr Justice Stephens granted the department a seven-day stay to lodge any appeal to his ruling on the A5.
Mr Kennedy said it was his intention to "accept the ruling".
He said he had considered the "complex legal and procedural matters".
"The judge took the view that a fuller assessment of the impact of the A5 proposals on the rivers Foyle and Finn Special Areas of Conservation should have been carried out," he added.
"I now intend to have a more comprehensive assessment conducted.
"When this is completed I will consider the matter further."
Mr Kennedy said it was important that the outcome of any new assessment was not "pre-judged" and said he could not provide further detail on timescales other than to say there would be "a substantial delay".
"My officials will seek to engage with landowners to carefully work through the next steps in relation to land issues," he said.
"I am conscious of the impact of delay to this significant roads project on our local construction industry and therefore I will engage with the executive to see how finance may be deployed this year to support local jobs.
"Given the delay, it is important that other schemes that may be in a position to be progressed ahead of the A5 are given full consideration by the executive."
Mr Kennedy said he intended to bring forward an executive paper detailing other options "such as moving forward with procurement on other possible schemes."
Last week, Mr Justice Stephens awarded legal costs to the group of farmers, landowners and supporters seeking to block work on a 50 mile stretch between Londonderry and Aughnacloy, County Tyrone.
Last month, the Alternative A5 Alliance won their judicial review challenge to the planned new route due to a breach of a habitats directive.
The scheme, the largest of its kind ever in Northern Ireland, forms part of a proposed key cross-border business route linking Dublin and the north west.
Following the verdict, lawyers for the department sought to have the court order put on hold.
They wanted time to meet a requirement to carry out an appropriate assessment required under the directive.
However, Mr Justice Stephens refused, citing the potential for a public inquiry and potential scope for legal confusion.