Gerry Adams renews calls for border poll at Sinn Fein ard fheis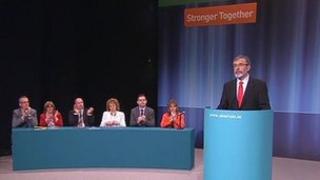 Sinn Fein's Gerry Adams has renewed calls for a border poll at the party's annual conference.
The party president made the comments during his keynote speech on Saturday.
Mr Adams said 15 years after the Good Friday Agreement it was essential to have a border poll on "Irish unity".
"It's time to let the people have their say on the future of Ireland." he said.
The ard fheis (conference) is being held in Castlebar, County Mayo.
During his speech Mr Adams also talked about government failure in the Republic of Ireland.
"Over the last five years, Fine Gael, Labour and Fianna Fáil have taken 28 billion euro out of the economy in taxes and cuts.
"Cuts to hospitals, to schools, to Garda (Irish police) stations, taxes on pensions, on savings and on homes."
Mr Adams also spoke about progress in Northern Ireland and the continuation of dialogue with unionists and loyalists.
"There is an imperative on republicans, challenging though it may be, to build alliances on social and economic issues with working class loyalists and unionists," he said.
"The Protestant, unionist and loyalist people are not going away. And Sinn Féin doesn't want them to go away."
Mr Adams said both sides had to "get to know each other better".
Divisions
"I commit our party, without preconditions, to be part of such discussions as we face into the Orange marching season, and to find solutions to contentious issues and to tackle economic disadvantage.
"This is the only way to build a fair society. It is what the vast majority of citizens want.
"The tiny minorities who espouse violence have been rejected," he added.
The Sinn Fein president also said he felt there was a lot of work to be done to "ensure that policing is non-partisan and civic".
"Recent decisions by the PSNI have failed this test," Mr Adams said.
He also called for a Bill of Rights.
Earlier, the Ard Fheis rejected a call for the party to adopt a freedom of conscience approach to abortion.
In his address to the party Mr Adams said there was much more work to be done within the truth and reconciliation process.
He encouraged delegates to visualise an end to the divisions in Ireland.
"Imagine a new agreed Ireland... the unity of orange and green.... a fair society and an economy run democratically in the interests of all citizens," he said.
"Our vision is based on equality. It means equal rights for citizens in same sex relationships, ethnic minorities and those of all creeds and none."
Earlier Martin McGuinness had asked of dissident republicans "where were they, when there was a war".
He said when he watched news reports of dissident parades involving men in their 30s, 40s and 50s he was "mystified" as to where they had been previously.
The deputy first minister made the diversion to his set speech at the Sinn Fein annual conference on Saturday.