Arrests on Northland Road, Derry, as weapons seized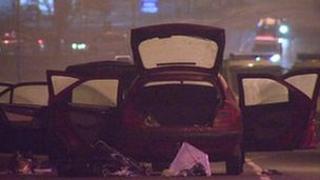 Two men have been arrested and a number of weapons recovered following a security operation in Londonderry targeting dissident republican activity.
The men, aged 20 and 54, were arrested after police stopped two cars on the Northland Road shortly after 20:00 BST.
A number of guns, ammunition and a suspected pipe bomb were recovered.
The Northland Road was closed and a number of properties evacuated while Army bomb experts examined the scene.
It has since reopened and residents were allowed back into their homes at about 05:30 BST on Saturday.
Witnesses said they saw two men being laid on the ground, then being dressed in forensic overalls.
Various items, including a vehicle, were seized in follow-up searches in the area.
Police district commander Chief Superintendent Stephen Cargin said: "We have seen again the blatant disregard of those individuals willing to endanger life in our community.
"I have nothing but praise for the officers involved in the operation. I would also like to thank members of the community for their patience as we continued our investigations last night."
SDLP assembly member Mark H Durkan commended the police.
"'There is certainly relief in the city today that another successful police operation has led to the removal from our streets of instruments of death and destruction," he said.
He said it was "alarming and depressing that there are still people out there intent on waging their warped war".