Flag protestor 'walked on footpath'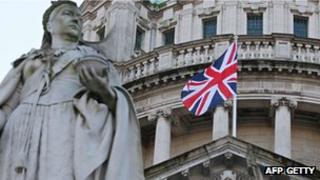 A union flag protestor seeking to intervene in a legal challenge to the demonstrations, disputes that she has broken any laws, the High Court has heard.
The unnamed east Belfast woman claims she kept on the footpath during walks to the city centre, a judge was told.
A nationalist man is seeking to judicially review the PSNI and Secretary of State for allegedly allowing unauthorised parades past his home.
His barrister questioned why the woman wanted to become involved.
Karen Quinlivan QC said: "Our challenge is to the policing of unlawful conduct, not to lawful conduct."
Lawyers for the woman have been given a week to lodge an affidavit setting out her reasons for attempting to intervene in the case.
Proceedings were brought over the weekly protests that took place over the decision to limit the flying of the union flag at City Hall.
Violence flared on a number of occasions as loyalists coming from east Belfast passed the nationalist Short Strand area.
According to the case being made out, legislation which requires the Parades Commission to be notified about processions has been repeatedly violated.
Marching
Now a unionist woman has applied for permission to become involved in the challenge in an attempt to have the unionist viewpoint represented.
Ms Quinlivan took issue with a statement made on the woman's behalf, which claimed she stayed on the footpath, never marching on the road nor obstructing traffic.
"All marchers are effectively corralled by police along the public highway," she said.
"There are differences in the submissions originally made and the submissions now being made."
Pointing out that her client had to provide details on why he should be granted anonymity, the barrister argued that the woman should have to do the same.
Ms Quinlivan added: "If she now contends she behaved lawfully I'm not sure what the purpose of her intervention is."
The judge, Mr Justice Treacy, gave the woman's legal team until next Friday to provide the necessary information.
He is expected to rule on her application at that stage.
A full hearing of the judicial review challenge is due to take place in June.