Dominic Dynes, Brian Sheridan and Brian Cavlan jailed over weapons 'arsenal'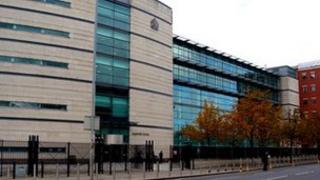 Three men who were caught with a loaded gun and an "arsenal" of other weaponry when police stopped their car have been jailed for seven years each.
All three had pleaded guilty to gun charges, but claimed they had dug up the weapons and were on their way to rebury them in a safe place.
Dominic Dynes, Brian Sheridan and Brian Cavlan were arrested after police rammed their car in County Armagh two years ago and found the guns inside.
They will spend four years on licence.
Earlier in the case, Belfast Crown Court heard that the trio were travelling together in a Citroen Xantia on a country road outside Keady when officers forcibly stopped the car.
AK47 rifle
When the vehicle was searched, police uncovered a loaded revolver in the front passenger footwell.
In the boot, wrapped in pink material and covered in soil, officers uncovered what the judge described as an "arsenal" of firearms.
The haul included an AK47 assault rifle, two other rifles, a handgun, magazines and bullets.
Dynes, 41, from Bree, Castleblayney, County Monaghan, was driving the vehicle and Cavlan, from Circular Road, Dungannon, County Tyrone, was sitting in the passenger seat. Sheridan, 36, from Blackwatertown, County Tyrone was also in the car.
Officers at the scene noted that 37-year-old Cavlan was wearing gardening gloves and his boots were covered in mud.
During police interviews, the three men claimed they had dug the guns up and were on their way to rebury them in an undisclosed location when they were caught.
At an earlier court hearing, the trio all pleaded guilty to having the loaded revolver with intent to endanger life. They also admitted possessing the other firearms under suspicious circumstances.
Terrorist link
Passing sentence on Friday, the judge said that given the circumstances of the find he accepted the men's claims.
Judge Kinney said there was no evidence to suggest the guns had been used in any terrorist operation before or how long they had been buried for.
Similarly, said the judge, there was no evidence as to their intended use of the loaded gun given that despite having an opportunity to use it against the police, they had not done so.
He added however that all three "were fully aware of the nature of the weapons" which were "clearly linked to a terrorist organisation" although there were no charges of membership before the court and "they deny such membership".
Judge Kinney said he could see no reason to distinguish between their sentences and ordered that they serve three years behind bars and four years on licence.
He said his view was that "this was a one-off operation, not likely to be repeated" but that "only substantial custodial sentences can meet the requirements of the case".