Mitchell: Be realistic about Good Friday Agreement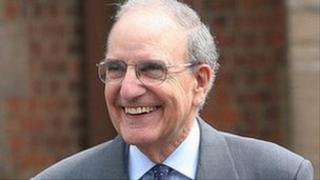 An architect of the Good Friday Agreement has said people should be more realistic about measuring progress made in NI in the past 15 years.
Former senator George Mitchell said people should compare society now with where it was before the peace process.
He said they should not compare it to "unrealistic objectives".
Senator Mitchell was speaking exclusively to BBC NI's The View programme to mark the anniversary of the agreement.
"The way to measure it is by what was the case before and what is the case now," he said.
"I think it's undeniable, indeed indisputable that significant progress has been made although not as fast as many would like, not as complete as many would like, myself included, but nonetheless Northern Ireland is moving forward."