Daniel O'Donnell's childhood home in Donegal up for sale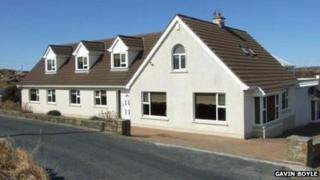 The childhood home of singer Daniel O'Donnell, which was a mecca for thousands of fans for many years, is up for sale.
The house in Kincasslagh, County Donegal, used to draw thousands of people for tea parties hosted by the star.
It has gone on the market for 400,000 euros.
The family is looking for a smaller home as the current house has become too big for them.
Daniel, 51, grew up in the home in scenic west Donegal.
Estate agent Gavin Boyle said the property had only been on the market a few days but the number of inquiries had "astounded" everyone.
'Too big'
"It's Daniel's childhood home. His sister, Kathleen, and her husband, John, and family are now living there along with Daniel's mum, Julia," he said.
"Kathleen's family have all left the nest and the house is much too big for them.
"Because of Daniel's association with the property, we do think that it will get more attention, possibly, but at the same time we are going to be more stringent on the inquiries we do receive for the property itself."
O'Donnell has a loyal fan base, mostly made up of women, and is renowned for his approachable and affable manner.
But he broke hearts in 2002 when he married Majella McLennan in a ceremony in his native county, and hundreds of his music lovers lined the streets outside the church.
The couple now have a house near the original family home, but O'Donnell has said he is saddened by the sale.
"My early years were spent during an era when the world seemed to revolve much slower, at least in Kincasslagh where I grew up. Ireland was a poor country at the time, things were being slowly modernised.
"But it is a testament to my parents' love and dedication to their children that our childhood memories are all happy ones," he said.
Last year, O'Donnell made UK chart history by becoming the first artist to have an album in the UK charts each year for the last 25 years consecutively.
He has had at least one album enter the UK charts each year since 1988.
The Kincasslagh man first stepped onto a stage in 1982 with an electric guitar he could not play - all he wanted to do was sing. He made his first record the following year.
During his career O'Donnell has made albums of country music, Irish folk, gospel music, and songs from the 1950s and 60s.