Successful NI pre-school applications announced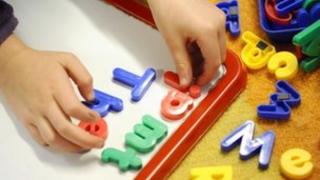 The parents of young children have been finding out if they have been awarded a free pre-school place.
About 24,000 children are in the eligible age group and a little more than 1,000 of those who applied have not, so far, been offered a place.
Last year at this time, 1,400 children failed to get a place in stage one of the process.
This year, after a huge outcry and extra money allocated by the Department of Education, the situation improved.
Although roughly the same number of pupils applied, the number left unplaced is almost 30% lower.
There is enough room to give all pupils a place in the year just before they start primary school.
The problem is not how many places are available, but where they are located.
East Belfast has had a particular problem in the past.
The department said parents who were disappointed this time would have another chance to apply for a place but the most popular nurseries were already full.