G8 boost for border counties in Irish Republic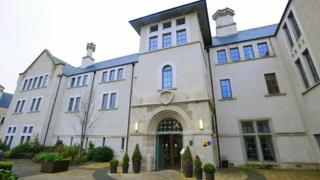 Some of the international delegations attending the G8 summit in Enniskillen, County Fermanagh, in June will base themselves in the Irish Republic.
A number of hotels there have received block bookings from some of those attending.
The leaders of the world's wealthiest countries will be staying at the Lough Erne resort, which is hosting the summit, on 17 and 18 June.
But some of their delegations will stay across the Irish border.
The summit has been organised by the Foreign and Commonwealth Office and will be attended by the leaders of Canada, France, Germany, Italy, Japan, Russia, the United Kingdom and the United States.
The media coverage of the G8 is expected to boost Northern Ireland's image across the world.
It is also proving a major spin-off for the hotel industry, especially in the Republic's border counties.
It is understood the Russian delegation, of several hundred people, will be staying in Sligo, in the Republic.
The Clarion Hotel confirmed it has a G8 block booking. In fact, it is fully booked for 10 days from 9 June.
The Slieve Russell hotel in County Cavan, also in the Republic, will be hosting part of a G8 delegation, thought to be Americans.
Security cost
The Slieve Russell has 222 rooms and my understanding is they are fully booked for the week of the summit. It is such a large delegation that more than one hotel is needed.
At least one other hotel in the Republic expects to host staff from another G8 country.
Many hotels close to the G8 venue in Fermanagh have already been booked up for the duration of the summit, and there have already been block-bookings at hotels in Belfast too.
The summit, which is a major event of truly international significance, has not been held in the UK since leaders met at Gleneagles in Scotland in 2005.
That event cost £90m to host and most of that went on security.
One estimate for the security bill this time around is £30m.
The real lasting long-term economic benefit of an event like the G8 is that it will showcase Northern Ireland to the rest of the world.
Northern Ireland's very association with the G8 will send out a message about its stature.
The hope is in the long term, images of the most powerful leaders on earth standing together with the Fermanagh lakes behind will boost tourism and Northern Ireland's standing as a business location.