Northern Ireland funding 'depends on shared future'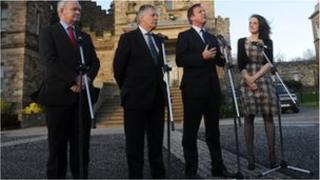 An economic package aimed at helping business in Northern Ireland may be withdrawn if the executive fails to make progress on a shared future.
The secretary of state said it was "a good opportunity" for commitment to "milestones and goals".
Theresa Villiers said money may be withheld if no progress is made.
"If we can't agree the package, yes, it is a fact that we may not be able to deliver some of the things we are talking about and discussing."
However, she added that there was every chance agreement could be reached.
Ms Villiers denied such a condition amounted to blackmail.
A government source said no figure could be put on the amount of money involved.
He said the the type of thing they were talking about were incentives for the private sector including new business start-ups; access to funding and enterprise zones.
However, the Secretary of State said a £153m funding package offered by the prime minister when the first and deputy first ministers visited Downing Street last month was not in jeopardy.
At that meeting, David Cameron told Peter Robinson and Martin McGuinness a decision on corporation tax was being delayed by 18 months.
So far the executive parties have failed to agree a new strategy on community relations. The Alliance Party and the Ulster Unionists both quit a cross-party working group complaining about the lack of progress.
Sinn Féin MLA Daithí McKay said Ms Villiers' comment "is a prime example of why the North needs to have economic autonomy."
"The British government has failed to honour the financial package which flowed from the St Andrews Agreement," he said.
"The £4bn shortfall in this package has had a direct impact on the construction industry here.
"We have seen decades of under-investment in the North and if the British government believe withholding funding is going to make people integrate more, they clearly have lost the plot."