Martin McGuinness opposes Baroness Thatcher parties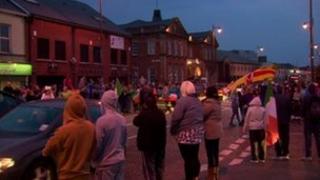 Sinn Fein's Martin McGuinness has said people should not celebrate the death of Baroness Thatcher.
For a second consecutive night, crowds have gathered in Belfast to celebrate the former prime minister's death.
A crowd of about 100 people disrupted traffic on the Lower Falls Road, waving flags and sounding car horns.
It followed street parties in west Belfast and Londonderry on Monday. In a tweet, Mr McGuinness said people should "resist celebrating" her death.
He added: "She was not a peacemaker but it is a mistake to allow her death to poison our minds."
The former prime minister died on Monday aged 87 after suffering a stroke while staying at the Ritz hotel in central London.
'Ghoulish'
Similar street celebrations also took place in other parts of the UK.
In Glasgow, the council urged people to stay away from the city's George Square after hundreds gathered there to mark the death.
The event was organised by posts on social media.
It is believed the gathering took inspiration from the song George Square Thatcher Death Party by the Glasgow group Mogwai.
In Bristol, seven police officers were injured when violence flared after police were called to Chelsea Road, Easton, where about 200 people had gathered.
Protests were also held in Brixton in south London. Those held in Derry and west Belfast on Monday night were smaller.
The PSNI said it was making inquiries after a disturbance in the area around Free Derry Corner at 1900 BST on Monday. Petrol bombs were thrown at police. No damage was caused and there were no injuries.
Traditional Unionist Voice leader Jim Allister called the Northern Ireland street parties "ghoulish".
"What an insight into the depravity of IRA supporters: their ghoulish street parties to celebrate the death of Mrs Thatcher," he tweeted.
'Warmonger'
The DUP's Jonathan Bell said the celebrations of Baroness Thatcher's death were "disappointing and disgusting".
"While we will differ and argue over history and that's acceptable and part of the normal political discourse, there should be a dignity and a respect in death for a woman who has had a stroke, whose two children and grandchildren are mourning the loss of a life," he said.
MLA for North Belfast Gerry Kelly said Baroness Thatcher was "not a peacemaker she was a warmonger".
"When she was in power she had the ability, indeed she had the chance to go for peace, to go for negotiations to find a way out of the long conflict," he said.
"But she chose to try and defeat the IRA, which even her generals at the time were saying was not possible.
"In my opinion she didn't represent anything good for working class people whether that was Britain or anywhere else in the world, one of her best friends was one of the worst dictators in South America - Pinochet.
"That's my opinion, why should I change it because she has died?
"She took free milk off children, she brought in a poll tax, she used physical force against the miners and she was at the centre of the shoot-to-kill policy."
'Wrong'
Alliance Party leader David Ford said while many people disagreed with Baroness Thatcher's policies "this is no cause for the scenes we have witnessed".
"There can never be any justification for the celebration of the death of another human," he said.
"It is wrong and they should not have taken place."
The Northern Ireland Office has confirmed that the union flag will be flown at half mast in Northern Ireland on the day of Baroness Thatcher's funeral.
Margaret Thatcher was Conservative prime minister from 1979 to 1990. She was the first woman to hold the role.
She will not have a state funeral but will be accorded the same status as Princess Diana and the Queen Mother.
The ceremony, with full military honours, will take place at London's St Paul's Cathedral on Wednesday 17 April.