Bangor art pods fill gap in delayed £100m development scheme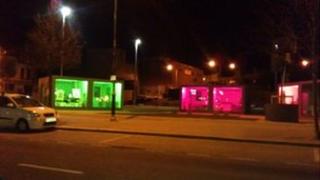 A set of art pods, made from brightly lit shipping containers, has been installed on a site that has long been earmarked for a £100m redevelopment.
The pods have been placed on Queen's Parade in Bangor, County Down.
Plans for a major redevelopment of the seafront site have been in the pipeline for about 20 years, but have suffered a series of delays and set backs.
The art pods are part of a £288,000 investment known as Project 24, aimed at revitalising the vacant site.
They will be used as creative spaces to showcase local arts and crafts. Seven artists have already begun to use the pods to display their work.
The installation, which is temporary, has been publically funded through Stormont's Department for Social Development (DSD) and the local authority, North Down Borough Council.
'Very excited'
The pods are due to officially open to the public on 27 April and will remain on the site for two years.
Christine Mahon, the council's director of development service, defended the cost of the temporary installation and said they were pleased to be "testing something very different" through the arts scheme.
"It's the first time in Ireland this type of project has been used, so we're very excited about it," she said.
Project 24 also includes a community garden and an events space on the vacant plot.
The art pods have been called "upmarket" shipping containers. Ms Mahon agreed that was a fairly accurate description but she added that they have been equipped with heating and running water.
She said: "They are very brightly painted, there are 12 pods. There is a perspex or glass end which is lit in the evenings and overnight because Project 24 is where arts never sleeps."
"You can go in and see the artist at work, you can buy their products or you can commission something," she added.
Fledgling businesses
The DSD, which agreed to buy the Queen's Parade site last year, contributed £250,000 to Project 24 while North Down Borough Council paid in £38,000.
Ms Mahon said she believed the temporary installation was "very good value for money".
"The total cost of the project is to cover obviously the current installation, the running costs of the project for two years, a series of events and business support programmes and at the end of the two years, the beauty of this particular project is that the pods themselves can be relocated in the borough and can continue supporting fledgling arts businesses," she added.
However, North Down councillor John Barry said there had been a "mixed reaction" to the appearance of the pods among local residents and he said community consultation had been "minimal".
Dr Barry said the DSD had set a very tight timescale for the installation. He added that if there had been a longer lead-in time, it would have provided more opportunity to consult with local people, "listen to their views and generate creative ideas for that particular space".
However, the Green Party councillor said there was support for the community garden and other aspects of the project and it would be "churlish" not to welcome the significant investment from DSD.
"We have to welcome this - something being there was better than nothing," Dr Barry said.
"My own sense is that, given the economic market and the fact that DSD has taken over the entire Queen's Parade site, that this project could be more than 24 months in terms of the lack of development prospects for that particular site."
Residents' association
The DSD agreed to buy Queen's Parade from the developer Karl Greenfarm Properties in December.
The £100m redevelopment plan for the site includes a hotel, convention centre, homes, offices and an entertainment space.
Ms Mahon said a consultation had been carried out with a local residents' association before the art pods were put in place on the vacant plot.
"We've also created a management board who are going to oversee the development of the space and its use, in terms of events and interpretation and included on that are representatives of the local community and YMCA," she said.
"So we're encouraged that, in actual fact, when we complete this project - at whatever length of time - we'll actually look back and say it was a good example of collaborative working.
"This is just the beginning."