Parades Commission to seek republican parade response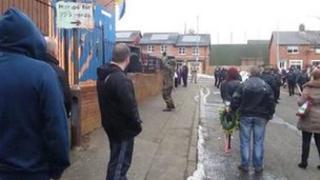 The Parades Commission is to ask the organisers of a republican commemoration in north Belfast about a video of a gunman firing shots.
There was controversy after footage was posted on the internet of a masked man firing shots at the Easter commemoration parade in Ardoyne.
Some children at the parade were dressed in paramilitary-style outfits.
The commission said it would seek a response from the parade organiser and a report from the police.
Unionist politicians have said there must be repercussions for the Henry Joy McCracken Republican flute band who organised the march.
"When future notifications are made by that particular band to the Parades Commission, I don't want to see them coming forward as anything other than being marked sensitive," the DUP's Nelson McCausland said.
"I would want to see significant determinations that impose significant penalties on those who have clearly broken the law."