DUP meets Parades Commission over north Belfast parade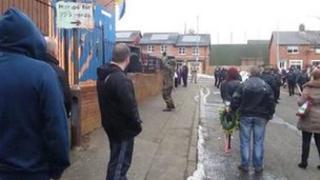 The DUP has met the Parades Commission to discuss concerns over a republican parade in north Belfast at the weekend.
A masked gunman fired shots at the event, and several children were pictured marching in paramilitary clothing.
DUP assembly member Nelson McCausland was at the meeting and he says he made the Chair of the Parades Commission aware of a number of concerns.
He said the appearance of the gunman was not a matter solely for the police.
"The fact is that when the masked man stepped forward, the bands were there and were playing music.
"The fact is when he stepped forward, crowds cheered him and therefore when they are looking for notification of parades in future by that particular band, that behaviour must be taken into account.
"It's not just an issue for the police.
"They need to investigate it, they need to identify the gunman and bring him before the courts, they need to recover the weapon, get it off the streets of north Belfast because over the winter we've seen too many occasions when dissident republicans have used handguns not in the air, but against people.
"But it's also a matter for the Parades Commission, because what happens as part of a parade has to be considered when future parades are being considered by the commission."
The commission said it "welcomed the opportunity to discuss directly with the public representatives their concerns".
"The commission told the delegation it would investigate the matter which would include seeking both a response from the parade organiser and a report from the PSNI."