Police say power line attacks 'put lives in danger'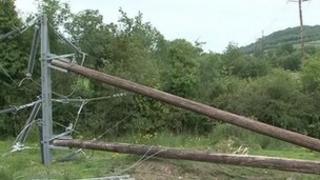 Police have warned that attacks on high voltage electricity poles carrying the power supply to Quinn Group premises in Fermanagh are putting lives in danger.
Two electricity poles have been cut down, and a third burned, in the Derrylin and Kinawley areas since 20 March.
There has also been an attack on Quinn's communications network.
A duct containing fibre optic cables was prised open and an attempt was made to set it on fire.
Inspector Roy Robinson appealed for anyone with information on the incidents to contact the police.
"Any contact with live electricity equipment can result in a fatality," he said.
Northern Ireland Electricity (NIE) has described the attacks as "extremely dangerous".
"If this potentially lethal activity persists, it is only a matter of time before someone gets severely injured, or killed," an NIE spokesperson said.
The Derrylin-based Quinn Group has condemned what it described as "mindless sabotage".
There were attacks on property associated with the company in 2011, when about £250,000 of damage was done at a cement factory in Derrylin, and electricity poles were cut down.
"The perpetrators and the sponsors of these activities know full well that disruption to our businesses and potentially to our customers, damages not just the businesses, but also the job security of our employees," the company said in a statement on the recent attacks.
Sinn Féin MLA for Fermanagh and South Tyrone Phil Flanagan said: "Those behind this type of criminal damage need to stop and do so immediately.
"This is the latest in a long line of disgraceful actions, carried out by people who have no interest in the local community.
"The people of this area are united in that they want to see the existing jobs within the Quinn Group retained and this ongoing campaign of destruction is undermining the efforts that are being made to protect these jobs."