Kieran McManus murder: Man arrested over west Belfast killing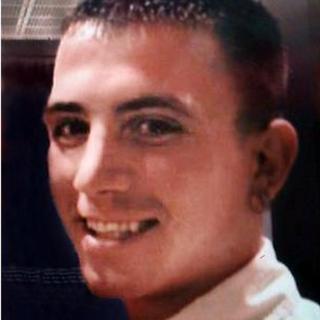 A 34-year-old man has been arrested in connection with the murder of Kieran McManus in west Belfast at the weekend.
Mr McManus, 26, was shot dead on Saturday night, in a car park outside the Kennedy Way pizza shop where he worked as a delivery driver.
The father-of-one was originally from the Turf Lodge area of west Belfast.
His mother branded his killers "cowards" and said the murder had "ripped the heart out" of her family.
Speaking on the BBC's Nolan Show, Sally McManus described her son as a "lovable brother and son".
She said he loved life and had been "completely focussed" on his six-year-old son.
"It's just ripped the heart out of the whole lot of us. His brothers - their hearts are just completely broken. His wee son and his wee sister - they just don't know what's going on at all," she said.
"And as for me, I don't know how I'm going to get through it at all, until these people are brought to justice.
"I would really appeal to the public, if anybody knows anything about this, to come forward. I wouldn't wish it on any mother."
Ms McManus said Kieran had gone to work as normal on Saturday night but as her family were getting ready for bed, they received a text message telling them that he had been shot and was being treated by paramedics.
"At first I thought maybe he had been shot in the legs or something, but in the back? I mean, that's just cowardice," she said.
The victim's mother said she started to pray as she rushed to see her wounded son, but before she managed to reach him, the family got another phone call to say Kieran had died.
"It's a mother's worst nightmare, and especially in the most cowardly way," she said.
"I would really love to just meet the one who pulled that trigger. It was real big of them, like, shooting him in the back."
Ms McManus said her son was known to the police after getting into trouble a few years ago, but she said he was not under threat from dissident republican paramilitaries.
Earlier this year, Mr McManus was given an 18 month suspended sentence on charges relating to an incident in February 2010 in which a man suffered serious injury from a sword or machete attack.
A funeral service for Kieran McManus is due to take place on Thursday.