Charity to help elderly victims of domestic abuse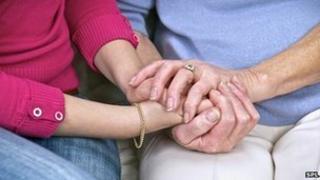 A project to support older people in Northern Ireland who have experienced domestic violence has been awarded £200,000.
Research by Belfast and Lisburn Women's Aid found one in six women over 60 suffer from some form of domestic abuse.
They will use the grant to reach out to them.
More than £4m is being spent by the Big Lottery Fund on groups that support the elderly.
The chief executive of Belfast and Lisburn Women's Aid, Patricia Lyness, said many of the women they have identified have been dealing with abuse for years.
"Due to their age and other factors they feel unable to talk about it and many believe it is too late for them to do anything to change their situation," she said.
"This programme will enable us to get out into the communities where these women are and to offer a life line to them. Many feel that because of their age and life-limiting issues that there is little point in speaking out, but everyone is entitled to live a life free from violence and fear.
"We have worked with women in their 80s and 90s who find their way to us and are amazed at the freedom that came with speaking out and the support which was available to help them keep safe and recover from past violence and abuse."