PSNI attacked at Londonderry Easter commemoration rally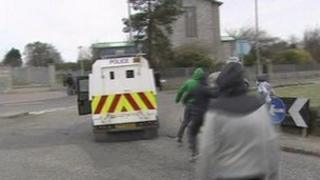 Police vehicles have come under attack from youths throwing stones and other missiles at a dissident republican Easter commemoration in Londonderry.
Around 200 people attended the event organised by the 32 County Sovereignty Movement on Monday.
A petrol bomb was also thrown at another PSNI vehicle and a police photographer who was taking pictures from outside the cemetery walls.
The police said no-one was injured and there were no arrests.
BBC Radio Foyle reporter Jenny Witt attended the event.
"In contrast to previous years, there was no masked man in paramilitary-style uniforms addressing the crowd on behalf of the IRA," she said.
"Instead, Francie Mackie, the chairman of the 32 County Sovereignty Movement, was the main speaker.
His speech followed that of Dermot Ryan, the brother of Real IRA man Alan Ryan, who was shot dead in Dublin last September."