Lurgan explosion: Man arrested in town released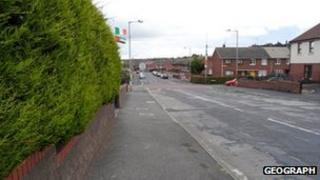 A 46-year-old man arrested in Lurgan by detectives investigating an explosion in the town on Saturday has been released without charge.
The blast happened at the junction of North Circular Road and Levin Road shortly after 15:00 GMT.
Police were in the area following information that an un-notified parade was to take place. No-one was injured.
Petrol bombs were thrown at police during follow-up searches in the Kilwilkie area.
Sinn Fein MLA John O'Dowd said he believed the bomb was an "attempt to kill police officers".
He said he understood a bomb had exploded in a bin.
"The planting of this device along a busy road on one of the busiest days of the year was not only callous it was stupid," he said.
"Thankfully no-one was injured as a result of this madness."
Mr O'Dowd said he believed dissident republicans were behind the explosion in the County Armagh town.
Northern Ireland Deputy First Minister Martin McGuinness also condemned the attack and said "anti-peace extremists" were "living in a fantasy world".
Alliance assembly member Trevor Lunn said the "vast majority of the public" would be "outraged".