Barack Obama: 'Work still to be done in Northern Ireland'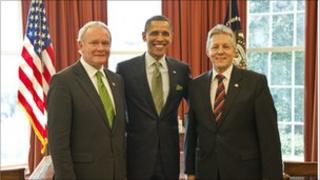 US President Barack Obama has said urgent work is still needed in the peace process in Northern Ireland
In a statement, ahead of the 15th anniversary of the Good Friday Agreement, he said people and political parties had to work together to build trust.
He said America would continue to be a friend and partner in the process.
The April 1998 agreement was signed after nearly two years of political talks.
In a statement, President Obama said: "As Easter approaches, we mark the 15th anniversary of the signing of the Good Friday Agreement.
"The people of Northern Ireland and their leaders have travelled a great distance over the past 15 years.
"Step by step, they have traded bullets for ballots, destruction and division for dialogue and institutions, and pointed the way toward a shared future for all.
"There is urgent work still to be done - and there will be more tests to come.
"There are still those few who prefer to look backward rather than forward - who prefer to inspire hate rather than hope.
"The many who have brought Northern Ireland this far must keep rejecting their call."
Mr Obama said "every citizen and every political party" needed to work together in service of "true and lasting peace and prosperity".
He said the United States would be there as a friend and partner "at every step of the way".
"That is the message I will carry with me when I visit Northern Ireland and attend the G-8 Summit in June," he added.
"On behalf of the American people, I salute the people and leaders of Northern Ireland and the model they have given to others struggling toward peace and reconciliation around the world.
"I pledge our continued support for their efforts to build a strong society, a vibrant economy, and an enduring peace."