Union flag protester Jamie Bryson released on bail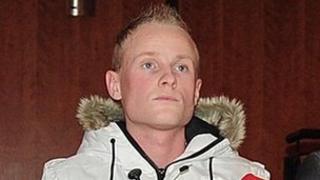 The leading union flag protester Jamie Bryson has been granted bail with strict conditions.
Mr Bryson, who is charged with a number of offences, was bailed at Belfast magistrates court.
The conditions include an 20:00 GMT to 07:00 GMT curfew, not making public speeches, staying out of Belfast city centre and staying away from protests.
He is not allowed to conceal his identity, give interviews or post on social media about the flags dispute.
He also has to report to Newtownards police station every day.
Mr Bryson faces charges of encouraging or assisting offences, and taking part in an unnotified public procession.
There have been protests since Belfast City Council voted to limit the flying of the union flag from city hall.
Mr Bryson, 23, of Rosepark in Donaghadee, is chairman of the Ulster Peoples' Forum which was set up in the wake of the protests.