Army called to examine beer keg in Rosslea, Fermanagh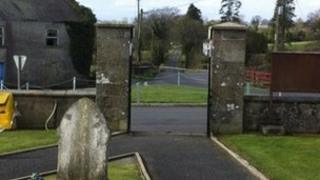 Army bomb experts are continuing to examine a suspicious object near Rosslea, County Fermanagh.
A beer keg was discovered on the Clogh Road close to the County Monaghan border on Tuesday evening following a call to a Belfast newsroom.
A number of homes close to Clogh Church of Ireland have been evacuated.
The road has been closed and it is understood the alert could continue for some time.
BBC Ireland reporter Andy Martin is close to the scene of the alert.
"The beer keg which may or may not contain a device has been left at the side of the road, a couple of hundred yards in front of the church," he said.
"Army bomb experts are on their way but the police for the time being are trying to secure the area in order to make sure there is no secondary device, that there are no other devices or any other security threat to Army personnel.
"They will try to determine firstly if this is a viable device and secondly what type of device it is, and what they're going to do about it."
District Commander Chief Superintendent Pauline Shields said she recognised the inconvenience the policing operation may cause to residents however, she said her priority "was to ensure the safety of the local community and to protect everyone".
Last week a beer keg containing 60kg of explosives was found in an abandoned car near Derrylin.
Security throughout Fermanagh has been increased in recent weeks amid fears that terrorists may attempt to target the Lough Erne golf resort, which is hosting the G8 summit in June.