'Sharp decline' in deaf students at NI universities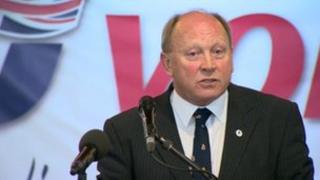 The number of deaf students attending NI universities has decreased substantially, according to figures.
Five years ago, 240 people with severe hearing difficulties enrolled at university; now there are 95.
The figures were revealed after a question tabled by TUV leader Jim Allister.
He blamed a reduction in support from the Department of Employment and Learning to meet the needs of the deaf. The department denies reducing funding.
Mr Allister queried the level of support for profoundly deaf students during a DEL committee meeting.
He said the answer confirmed a "sharp decline" in the number of deaf students.
He said the "dramatic reduction" in deaf people's ability to pursue third level education "means the deaf are being failed by government".
"Such a dramatic reduction in the ability to pursue third level education means the deaf are being failed by government," he said.
"So much for a Programme for Government that boasts of opportunity for all.
"I am, therefore, calling on DEL to urgently review its support for this disadvantaged sector, so that the deaf might adequately avail of educational opportunities."
A spokesperson for the Department for Employment and Learning (DEL) said there has been no reduction in funding for hearing impaired students in higher education over the last five years.
"In September last year, the minister launched Access to Success, the department's regional strategy to widen participation in higher education," they said.
"The strategy identifies groups of students, including those with hearing disabilities, who may require additional strategically focused support to take full advantage of the educational opportunity."
The DEL spokesperson said the department also provided funding through Disabled Students Allowances, to help students pay for the extra costs they may incur when studying their higher education course.
"The department also provides funding for the Register of Support Providers, which offers one-to-one personal support to disabled students on higher education courses at any of our colleges or universities. The support providers include note-takers, sign language interpreters and campus assistants," they added.