TV chef Paul Rankin closes Belfast restaurant Cayenne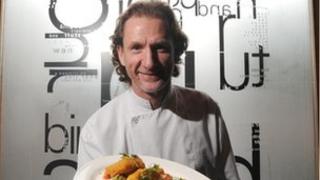 Celebrity chef Paul Rankin has closed his last restaurant in Belfast.
In a statement the award-winning chef said Cayenne closed its doors at Shaftesbury Square and ceased trading on Sunday 24 March.
Mr Rankin is credited with transforming Northern Ireland's culinary scene when he launched his Roscoff restaurant in the same location in 1989, gaining the region's first Michelin star in 1992.
Mr Rankin said he is looking for new premises.
"We've enjoyed a very loyal and supportive relationship with our customers over all these years and hope that they will bear with us while we find the right location to re-establish our restaurant," Mr Rankin said.
He said the current lease at Cayenne had come to an end.
"Given the change in the Shaftesbury Square area over the last number of years, it doesn't make sense to undertake the necessary investment required to continue to operate there at this time.
Passion
"The once 'golden mile' of Belfast has suffered badly from a lack of regeneration and a general decline in popularity and appearance, even the Ulster Bank with its gable end statues across from us is to close shortly," he added.
"Location is key in the restaurant business, particularly at a time of economic downturn, and our current setting is no longer sustainable. The disturbances around the flag protest, particularly during the Christmas period, also confirmed our decision."
Mr Rankin said aside from the restaurant he was still focusing on other aspects of his career.
"The Rankin selection of foods continues to grow and develop across the UK and Ireland and I will maintain my focus on cultivating the brand, as well as continuing my on-going broadcast commitments and consultancy work within the hospitality industry.
"However, cooking is my ultimate passion and I am committed to establishing a new kitchen inspired by both Cayenne and Roscoff before it," he added.
Mr Rankin said he had held "high level talks" about other business and restaurant opportunities but that it was "too early to confirm any details yet".