Safety campaign launched to reduce farm deaths and injuries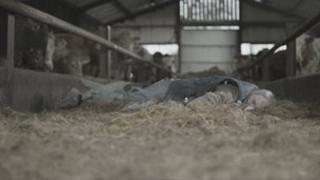 A new safety campaign has been launched to try to reduce the toll of death and injury on Northern Ireland farms.
Forty-three people have died in farming accidents since April 2007 while hundreds more have sustained serious injuries.
On average every month a farming family is left bereaved.
The Health and Safety Executive (HSE) said the television and radio campaign urges farmers to take a moment to stop and think safe.
It was launched by health and safety minister, Arlene Foster.
"These emotionally-charged advertisements, which focus on reminding farmers to 'Stop and Think SAFE' before starting any job on the farm, are particularly effective at bringing home the importance of farm safety in the workplace," she said.
"When a farming accident happens, it affects everyone - family, friends, and, in many cases, an entire farming community which is generally close-knit by its nature."
Agriculture minister Michele O'Neill said although farming is a vital part of the economy in Northern Ireland, the safety record is poor.
"Health and safety is a fundamental requirement for any business and should be regarded as an essential part of farm business management," she said.
"This new advertising campaign, aimed specifically at tackling farm safety, will signpost farmers and their families to where they can seek help and advice to reduce the risk of accidents and fatalities on farms.
"The adoption of safe working practice will go a long way to preventing accidents that often have devastating consequences."
HSE chairman, George Lucas, said he hoped the campaign would act as a reminder to farmers.
"The 'SAFE' message addresses the four biggest causes of death and injury on our farms -slurry, animals, falls from height and equipment," he said.
"Our research shows that while most farmers appreciate that there are many dangers involved in everything they do, too many don't routinely assess those risks and take a few moments to think about what they are going to do and make preparations that will help to avoid injury or death."
Mr Lucas said farmers and their families had been consulted.
"They have asked for a hard-hitting, realistic campaign to get the message home about the dangers and consequences of their actions.
"This campaign will help to ensure that everyone involved is familiar with the guidance available and, most importantly of all, directly acts upon it."
The television advert can be viewed here.
Many of the victims of farming deaths and accidents have been men over 65.
Last year, the Farm Safety Partnership was launched, an initiative aimed at reducing the number of deaths on farms in Northern Ireland.
The partnership includes staff from the Department of Agriculture and Rural Development (DARD), the HSE, and the Ulster Farmers Union (UFU).
It is trying to raise awareness of the dangers related to farming and improve the overall safety record across the industry.