Thousands still without power in Northern Ireland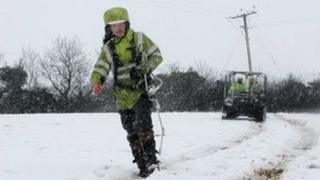 Emergency repair crews have worked around the clock, to try to restore electricity to thousands of homes still without power in Northern Ireland.
According to the latest figures, 7,000 customers are still cut off.
Many roads are blocked due to heavy snow, particularly in rural parts of County Antrim, and some families cannot leave their homes.
An RAF helicopter, carrying a military mountain rescue team, has been sent to NI from Wales to assist the police.
A spokesman for the Ministry of Defence said the Sea King helicopter had been sent from RAF Valley in Anglesey to help with "weather relief".
It will support the PSNI and other rescue teams, and the operation will be coordinated through the Joint Helicopter Flying Station at Aldergrove.
'Blizzards'
Electricity repair crews are being assisted by 140 staff from the Republic of Ireland and Scotland but NIE said it could be "several more days" before power is restored to all customers.
The situation has improved for many since Saturday morning, when 35,000 electricity customers were cut off and up to 1,000 homes were without water.
Northern Ireland Water said water supply has now been restored to most customers. However, people in parts of County Antrim and north Down may experience low pressure or interruptions to supply, as it will take the water system some time to recharge fully.
NIE said it hoped to restore power to the majority of customers by Sunday night, but said some "small rural pockets" could still be affected on Monday.
Julia Carson, NIE's communications manager, said crews had worked through blizzards and high winds to carry out repairs.
She said a number of electricity poles had been broken and trees had fallen across power lines.
"The weather does seem to be improving, wind speeds have dropped, but due to the extent of the damage across northern and eastern counties it may be a few days before customers are back on supply," Ms Carson said.
NIE helicopter
"Some roads are still impassable, access has also been restricted because of drifting snow, and abandoned vehicles, they're also causing access problems for us."
Due to road conditions, NIE has been using a helicopter to identify damage to its power network in rural and exposed areas.
Ms Carson said NIE patrols would concentrate on areas around Torr Head, Mallusk, Dundrod, Stoneyford and Carr's Glen in County Antrim and Craigantlet in County Down on Sunday.
A spokesman for the Roads Service said abandoned vehicles were hampering the snow clearing operation in some urban areas.
He appealed to motorists to remove abandoned cars from carriageways.
The spokesman added that the wind was "continuing to cause problems in exposed areas with snow drifting from the adjoining lands".
No heating
Ann McCaughan, who lives in Feystown, just outside Glenarm in County Antrim has been without power in her home since 11:00 GMT on Friday morning.
She told BBC Radio Ulster: "The roads are blocked totally so there's no way that the power people can even get out to do anything.
"We've no heat, it's the same with the gas, we're running out of gas, we've no bread, we've no milk. We're running out of all these type of things," Ms McCaughan said.
The BT network has also sustained considerable damage due to the weather conditions.
A BT spokeswoman said their engineers have been dealing with "huge volume of work needed to restore service to hundreds of homes and businesses impacted by the damage".
"Fault reports have increased by more than 250%, and while we've made significant progress in working through them, new faults continue to be reported as power is restored," she said.
Customers experiencing interruptions to their water supplies should contact Waterline on 08457 44 00 88.
To report a power cut, contact NIE's customer helpline on 08457 643 643.