Snow storms: Thousands without power in Northern Ireland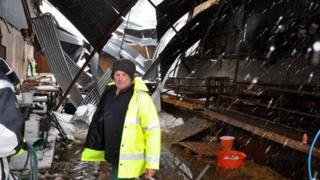 About 13,000 homes are still without electricity in Northern Ireland after 24 hours of severe weather.
Northern Ireland Electricity has been working around the clock to restore supplies but said it could be days before all the problems are fixed.
The power cuts have also disrupted water supplies in some areas, with about 500 customers in south Antrim and parts of west Belfast without water.
The BBC said a transmitter fault had affected TV and radio signals.
The road and rail networks, flights and ferries have also been disrupted.
Many roads across Northern Ireland are closed and motorists have been warned of very dangerous conditions.
'Struggling'
NIE has deployed a helicopter "to patrol electricity lines in areas that cannot be reached by road".
Repair teams from Scotland and the Republic of Ireland have been called in to help.
On Saturday morning, 35,000 customers were without electricity across Northern Ireland but NIE said it had managed to restore power to about 17,000 of them during the course of the day.
The power company said local council staff, the police and voluntary organisations such as the Red Cross were "playing an important part in helping to clear roads and help the local community during this situation".
An NIE spokeswoman said more than 100 linesmen were deployed from 07:00 GMT on Saturday to some of the worst affected areas, including rural areas around Ballyclare, Larne, Bangor and Downpatrick.
Sara McClintock from NIE said: "We will continue with all of our efforts to restore customers as soon as is humanly possible but in many cases our crews are struggling through snow drifts up to six feet in depth."
Emergency generators
Ms McClintock added: "Specialist engineers will be monitoring the network from the helicopter and provide vital information on access and network damage to crews on the ground.
"This is particularly important as many roads remain impassable due to snow and abandoned vehicles."
Northern Ireland Water said that as a result of the power outages, a number of its water pumping stations were "experiencing intermittent power interruptions" and this was affecting customers' supplies.
In a statement, the company said: "NI Water has deployed emergency generators to a number of sites to ensure supply is maintained to customers, however a number of customers in southern parts of County Antrim & County Down may experience low pressure or interruptions to their water supplies as a result of these power interruptions."
Sheep killed
In Glenariff, County Antrim, a farmer has lost a number of sheep after the roofs on his lambing sheds collapsed due to the weight of snow.
James McHenry had moved more then 100 of his sheep inside because of the weather.
A number of his sheep were killed and many others were trapped because the sheds are unsafe.
Mr McHenry said it a was devastating blow to his farm.
"The sheep have been our life and we've worked so hard. It's been a bad winter right through and we fed sheep quite well and brought them in to lamb and then this happened.
"It just feels as if part of us has gone," the farmer said.
The BBC said some stations were off air on Saturday as a result of the adverse weather conditions.
A fault at the Divis transmitter left many people in Northern Ireland without TV reception and some BBC radio stations were also affected.
BT also said the adverse weather conditions had caused "considerable damage" to its network.
'Treacherous'
The company said it was using "emergency generators where possible in telephone exchanges to sustain service to our customers until power is restored".
"However, conditions remain treacherous for our engineering and service teams and in some instances, locations can only be reached by foot, impacting their ability to permanently repair faults and restore service."
Customers experiencing interruptions to their water supplies should contact Waterline on 08457 44 00 88.
For electricity queries, NIE can be contacted on 08457 643 643.