Omagh bomb: Colm Murphy and Seamus Daly to appeal ruling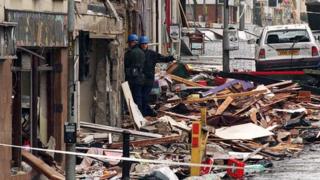 Two men found liable for the Omagh bomb atrocity of 1998 at a civil retrial are to appeal the ruling.
Earlier this week, the judge described the evidence against Colm Murphy and Seamus Daly as overwhelming.
The action was taken by the victims' families, who were awarded £1.6m damages.
Twenty-nine people, including a woman pregnant with twins, were killed in the Real IRA attack on the County Tyrone town in August 1998.
On Friday, a lawyer for the two men confirmed they would proceed with their right to challenge the ruling.
Previously, Mr Justice Gillen had said he recognised the scale of the terrorist outrage for which no one has ever been convicted.
"The barrier of time has not served to disguise the enormity of this crime, the wickedness of its perpetrators and the grief of those who must bear its consequences," he said.
"Even 15 years on nothing can dilute the pulsing horror of what happened."