RIR soldier recognised for bravery in Afghanistan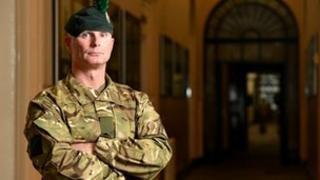 A Belfast soldier who took command of a patrol and fought off Afghan insurgents after two officers were shot has been recognised for his bravery.
Chris Morton, 42, of the Royal Irish Regiment, was in the Nad-e-Ali district of Helmand, when a patrol vehicle was hit by an improvised explosive device.
The patrol was then fired on and two officers and a gunner were injured.
Lance Corporal Morton, who aided the crew, received a mention in despatches.
The incident took place in August 2012 when the Belfast man was attached to 3rd Battalion, The Rifles, as part of a police advisory team.
It was his second tour of duty in Afghanistan.
When the shoot-out began, LCpl Morton moved his vehicle to provide cover, took control of the platoon and ordered his driver and another soldier to continue medical treatment on the two wounded officers, one of whom later died.
He then put the injured gunner in a position where he could fire on the insurgents.
His citation read: "Morton's exemplary actions on this day successfully regained control of a potentially catastrophic situation. Under fire and leaderless, Morton's gallantry saved the day."
LCpl Morton said he was delighted with his honour.
"It's great to be recognised," he said, "but, if I could give this award to everyone who was there on that day, I would."
A Territorial Army soldier since 2008, LCpl is a window fitter in civilian life.
He is one of 24 soldiers awarded a mention in despatches, in the latest operational honours and awards list released by the Ministry of Defence.
The mention in despatches is one of the oldest forms of recognition for gallantry within the UK armed forces.
Since 1993 the mention in despatches has been reserved for gallantry during active operations.