NIE confirm network fault caused Belfast blackout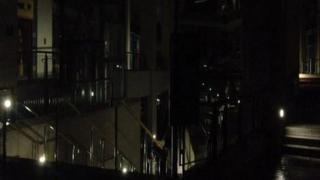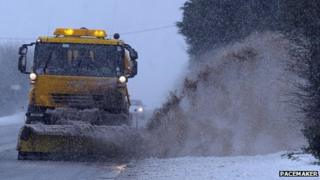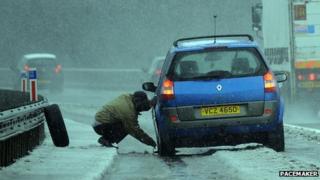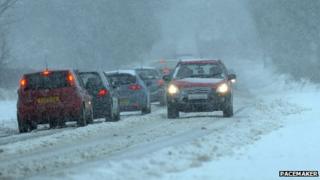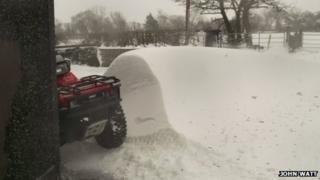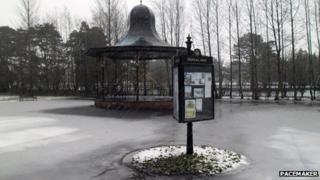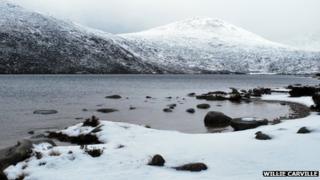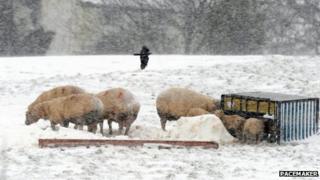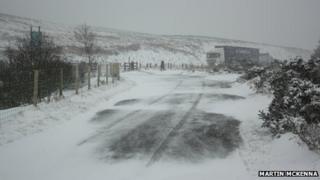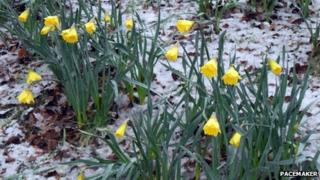 A network fault meant 200,000 homes in Belfast were without power for a time on Friday evening.
Northern Ireland Electricity (NIE) said the blackout was caused by an issue with the high voltage transmission network.
Power said power had now been returned to many parts of Belfast.
NIE is still working to restore power to 40,000 customers in Northern Ireland who had lost supply as a result of the bad weather.
Most of the properties affected outside Belfast are in Counties Down and Antrim.
NIE said it had restored power to 100,000 customers in Northern Ireland following the overnight snow storm.
More than 70 schools were closed on Friday.
Roads are closed and airports have been affected.
Police are advising motorists not to travel on roads affected by snow unless absolutely necessary.
George Best Belfast City Airport had to close twice to allow for snow clearing and de-icing.
'Damage'
Julia Carson, NIE communications manager, said: "The restoration process has been steady throughout the day and we are working to restore the customers as quickly and safely as possible.
"However, the atrocious weather conditions , including drifting snow, have made access very difficult and the high winds, combined with snow and icing, are still causing damage to the network.
"The severe weather is set to continue through tonight and into Saturday and we are likely to see further damage to the network which will affect electricity supplies."
NIE said customers may notice brief dips in their lights on a regular basis.
"We would ask that customers do not phone in to report these dips and only contact us if their electricity is completely off," added Ms Carson.
NIE can be contacted on 08457 643 643.
Belfast Trust said six operations were cancelled on Friday.
It said it was cancelling all planned operations on Monday except for cancer or very urgent operations.
The trust apologised but said the serious weather was placing extra pressures on hospital staff.
Heavy snow
The Roads Service said heavy snow accumulations have particularly affected the north east of Northern Ireland, with drifting of up to 40cms reported.
"Most routes have been salted three times over night with snow ploughing necessary on many routes," they said.
The following roads are closed: Quarterlands Road, Dunmurry; Cochranstown Road, Belfast; Colinglen Road, Dunmurry; A27 Moyad Road, Spelga; B70 Ballymaconnely Road, Rasharkin; A2 Cushendall Road, Ballycastle; A44 Magheramore Road, Ballycastle; C507 Highmoor Road, Eglinton; U1101 Baloughry Hill Road, Killea; Ligoneil Road, Belfast; A52 Ballyutoag Road, Belfast; A2 Shore Road, Warrenpoint at Well Road junction; B7 Moyad Road; Portmore Road, Lisburn; Carricknadarriff Road, Lisburn; Tullyard Road, Drumbo; Whinney Hill, Holywood; C19 Crosskennan Road, Antrim; Coast Road, Ballywalter; Steeple Road, Antrim; C263 Belfast Road, Newtownards (Bradshaws Brae); A2 Springvale Road, Ballywalter; A22 Belfast Road, Comber; 27 Craigboy Road, Donaghadee; B8 Newry Road, Mayobridge closed at Derryleckagh Road; A36 Shaneshill Road from A8 to B94 at The Battery Inn; A2 Cushendall Road at Water Top Farm; A43 Glenariff Road from junction Ballyeamon Road to Waterfoot; B14 Ballyeamon Road at junction of Skerry Road; C27 Lylehill Road; B94 Rathkeel Road between A36 Shaneshill Rd and A42 Broughshane Road; Katesbridge Road, Kinallen; B7 Rathfriland Road, Dromara; Broad Road, Limavady; Rostrevor Road, Hilltown; Cushendall Road, Ballycastle; •Drumsurn Road, Limavady; A37 Mount Road, Coleraine.
A full list of affected roads in each council area can be found on Trafficwatch NI.
Motorists in Rostrevor and Warrenpoint are asked to take extra care due to flooding in the area.
Caution
Police said it was causing traffic problems around Warrenpoint and Burren with long tailbacks on the A1 from Newry to Warrenpoint.
All other routes are passable but require caution.
Due to the NIE power outages a number of traffic signals in Belfast are not working and motorists are asked to pass through these junctions with care.
Belfast International Airport said three of its flights had so far been affected by the weather, including the United Airlines flight to Newark.
The airport said all passengers on that flight had been put up in a hotel overnight.
Belfast City Airport has advised passengers to check with the airline before travelling to the airport.
"These contact details can be found on the airport website," a spokeswoman said.
"The airport will be updating passengers throughout the day across social media pages on Facebook and Twitter."
P&O Ferries said some sailings between Larne and Cairnryan have been cancelled due to ongoing adverse weather conditions and the closure of the A75 & A77 in Scotland.
Passengers who may wish to rebook can do so by telephoning 0871 66 44 777.
The weather has also led to the cancellation of the Larne half marathon on Saturday.