Ailsa Craig: Asking price reduced in Irish Sea island sale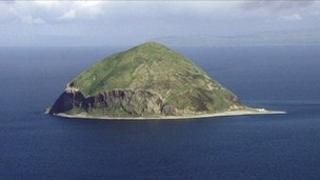 The asking price for an island in the Irish Sea has been dramatically reduced since it was first put on the market almost two years ago.
Ailsa Craig, which lies about 10 miles off the Scottish coast, was first put up for sale at £2.5m in May 2011.
But the uninhabited site, colloquially known as "Paddy's milestone", can now be snapped up for £1.5m.
It was given the nickname because it is situated about half-way between Glasgow and Belfast, as the crow flies.
Volcanic plug
Ailsa Craig is currently owned by the Scottish peer Archibald Angus Charles Kennedy, the 8th Marquess of Ailsa.
The dome-shaped land mass in the Firth of Clyde rises to 1100 ft above sea-level.
Geologists believe the island is a "plug" left behind from an extinct volcano.
The 220 acre site boasts a ruined castle, a small cottage, a lighthouse and a granite quarry.
'Seabird city'
Ailsa Craig is also home to one of the largest gannet colonies in the world, with about 36,000 breeding pairs.
The Royal Society for the Protection of Birds (RSPB) looks after the colony, which it describes as a "bustling seabird city, with puffins, black guillemots, razorbills and peregrines some of the special residents".
It is understood there are strict controls on development on the island in order to protect the birds' breeding ground.
The quarry yields blue hone granite which is used to make stones for the sport of curling.
Blue hone is very dense and nonporous form of granite, which prevents moisture from penetrating and pitting the carved stones as they lie on the ice.
Unusual site
Ailsa Craig is renowned as the source of the majority of curling stones currently in use across the world.
The selling agent said this was "the first time in many generations" that the island has been put up for sale.
Ran Morgan, from the real estate consultancy Knight Frank, said the price had been dropped within recent weeks in an effort to "ignite dormant interest" among prospective buyers.
He said there was an expectation that the sale of sites as unusual as Ailsa Craig would take some time.