Irish navy detains Northern Ireland fishing boat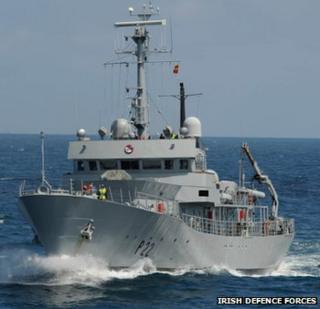 The skipper of a County Down fishing vessel has appeared in court in the Republic after the Irish naval service detained his boat off the Galway coast.
Charles McBride, skipper of the Kilkeel-based Archane, was charged with fishing within the Republic of Ireland's 12 mile limit.
Navy personnel boarded his boat at 15:00 GMT on Tuesday, about 11 nautical miles south of the Aran islands.
It was escorted to shore by the Irish naval vessel, the L.E. Aoife.
There were six crew on board the Archane, all from the Kilkeel area, when it was detained.
They were taken to Rossaveal in County Galway, where they were met by Irish police and fishing officials.
On Wednesday evening, Mr McBride, from Cromlech Park, Kilkeel, was brought before a special sitting of Galway District Court.
The 59-year-old skipper was formally charged with fishing inside the 12 nautical mile limit - the exclusive fishing limits of the Irish State - contrary to Section 14 of the Sea Fisheries and Marine Jurisdiction Act 2006.
A state solicitor told the judge that the Republic's Director of Public Prosecutions had consented to the accused being sent forward for trial.
The case was scheduled to begin at Galway Circuit Court on 9 April.
Mr McBride was released on bail of 100 euros (£85).
In a statement on Tuesday, the Irish Defence Forces said: "There have been 206 vessels boarded by the naval service in 2013, six warnings were issued and this is the first vessel detained this year."
The L.E. Aoife is one of three offshore patrol vessels operated by the Irish naval service.