PAC report says Housing Executive is 'out of control'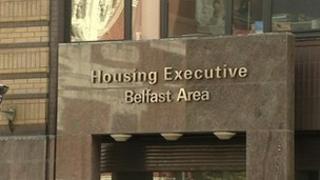 The Public Accounts Committee has accused the Housing Executive of being "out of control" in the way it managed maintenance contracts.
It said it exposed the organisation to a significant risk of fraud.
The report also criticised the Department for Social Development, which oversees the executive, for not being aware of issues within the organisation.
It follows a number of critical reports about the Housing Executive.
Chairperson of the Public Accounts Committee Michaela Boyle said the report exposed a "catalogue of failures".
"We know that most Housing Executive staff, overseeing those businesses contracted to respond to maintenance needs, are diligent and hard working," she said.
"However, we found that the management and oversight of this service has been abjectly poor - so poor that it calls into question the capability and competence of management within the Housing Executive over many years, particularly at a senior level.
"We would even go so far as to say that it would appear that some members of senior management actively undermined the systems of control that had been put in place."
'Whistle-blower'
The report highlighted the fact that the committee had raised concerns about the performance of the Housing Executive's management after issues were raised by a whistle-blower and that these reviews had been on-going since 2008.
It found that there was a culture within the Housing Executive that discouraged staff from raising concerns, including the use of IT to attempt to identify an anonymous whistle-blower.
Ms Boyle said: "The practices we found give the impression that staff who raise concerns in the course of their work or in a whistle-blowing capacity will not be supported or protected.
"I want to put this on the record - discouraging whistle-blowing or creating the perception that whistle-blowers are not welcome is simply unacceptable."
Last year's audit came after the Housing Executive's contract with the Red Sky maintenance company was terminated in 2011.
This followed claims of substandard work and financial irregularities.
Social development minister, Nelson McCausland, said he will carefully consider the committee's recommendations.
He said his department has monthly accountability meetings with the senior team in NIHE to be assured that the necessary measures are being taken.
Mr McCausland said he is "determined to work through the issues raised."