Warrington bomb: Tim Parry's parents address Stormont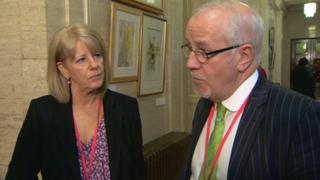 The parents of a 12-year-old boy killed by an IRA bomb in Warrington 20 years ago have addressed the Northern Ireland Assembly.
Colin and Wendy Parry's son, Tim, and three-year-old Johnathan Ball, died when two IRA bombs exploded in the town centre in 1993.
The Parrys were invited to Stormont by the first and deputy first ministers.
At the end of a visit, Sinn Fein's Caitríona Ruane told the Parrys she was sorry for the loss of their son.
Afterwards the MLA said: "I was struck by their dignity.
"I too am a mother and a grandmother," she added.
Ms Ruane said no parent should have to go through the loss of a child through conflict.
Wendy Parry said she had appreciated the warm welcome the family had received from all parties at Stormont, on the eve of the 20th anniversary of the Warrington bomb.
Standing beside her husband, Colin, she said: "We've always said we will speak to anyone.
"We want to break down barriers."
The Parrys have spent the past two decades campaigning for peace.
They founded the Tim Parry and Johnathan Ball Foundation for Peace in memory of Tim and Johnathan Ball who lost their lives following the 1993 explosion.
Colin and Wendy Parry met the Speaker as well as junior ministers Jennifer McCann and Jonathan Bell as part of their visit on Tuesday.
Mr Parry said he would like to assist with the new Maze Long Kesh peace and reconciliation centre as he has experience of running his own peace centre.
He said there was a danger of this type of centre becoming a "white elephant" if it was not kept relevant.
Mr and Mrs Parry were accompanied by Councillor Mike Hannon from Warrington Council.
Colin Parry told the BBC that the experience of losing their son "defines us now".
He said he never felt anger at the IRA killers.
"We just felt enormous loss, grief, devastation," he said.
"I don't think anger had any room to get in."