Spirit of Enniskillen Trust: School principals concern at winding up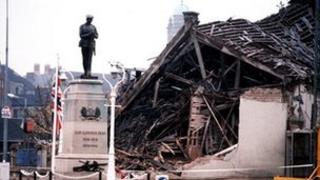 Fourteen school principals have expressed their concern at the winding up of a cross-community charity established following the IRA Poppy Day bombing.
The Spirit of Enniskillen Trust was set up after the County Fermanagh town was devastated by the 1987 bomb.
It is set to close because of financial difficulties.
In a statement, the head teachers said thousands of young people had been touched by the organisation's work.
"We deeply regret the closure of the Spirit of Enniskillen Trust with the loss of key staff and several vital programmes," they said.
"What must now happen is that a way be found to ensure that this work continues, although the trust is gone."
The charity was inspired by peace campaigner Gordon Wilson, father of one of the 12 people killed by the explosion at Enniskillen's war memorial on Remembrance Sunday.
Mr Wilson survived the explosion but his daughter Marie, a 20-year-old student nurse, died from her injuries.
Mr Wilson forgave the bombers in a BBC interview recorded shortly after the death of his daughter.
The charity was established in an attempt to harness the atmosphere of forgiveness and reconciliation that Mr Wilson's words had inspired.
One of those who took part in the programme, and is now a teacher, has spoken of how it helps young people.
Emma O'Kane said: "The organisation changed my life and taught me skills, nurtured qualities and offered me a different perspective that my school or university couldn't.
"My hope was that my pupils could take part in this much needed, highly relevant work and ultimately keep the legacy of Gordon Wilson alive.
"Our young people are bombarded with images from the media of division, flag disputes, underlying bitterness and hatred, therefore its unique work is still needed."
The teachers' statement said that the "witness of Gordon Wilson" had given them a firm foundation on which to build.
"The challenge now is to take forward that work," they said.
"Financial pressure may have closed Spirit of Enniskillen Trust, but we pledge to keep alive Gordon Wilson's foundation for a better society."
The Spirit of Enniskillen trustees are winding up the charity because of a £250,000 deficit in the organisation's pension provision.
It is understood the other local groups affected also use the same pension scheme.
They include the Northern Ireland Council for Voluntary Action (NICVA), the umbrella body for the local voluntary and community sector.
It is understood that the trust has four employees and a chief executive and has received annual funding of around £300,000.
The statement expressing sorrow at the charity winding up was released on behalf of 14 schools.
They are Oakgrove Integrated College, Londonderry; St Joseph's Boys' School, Derry; Lisneal College, Derry; Cross and Passion College, Ballycastle; Ballycastle High School; Collegiate Grammar School, Enniskillen; St Louis Grammar School, Kilkeel; North Coast Integrated College, Coleraine; Magherafelt High School; Antrim Grammar School; Dunclug College, Ballymena; Ballymena Academy; Kilkeel High School; St Colm's High School, Draperstown.