Ossory Meats operations are suspended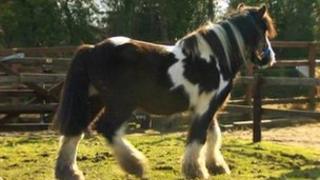 The Republic's Department of Agriculture has suspended operations at an equine abattoir after an inspection found "irregularities" relating to horse passports and microchips.
Concerns about the abattoir were revealed in a BBC NI Spotlight investigation on Tuesday 5 March.
Details of an incident at Ossory Meats on Friday 8 March are outlined in the report 'Equine DNA & Mislabelling of Processed Beef Investigation' published on Thursday.
Horse passport "irregularities" were uncovered when Department of Agriculture officials carried out identification checks on horses presented for slaughter at the abattoir.
The report said that "in some cases, while the microchip in the equine matched the passport, the marking on the horse and the passports were very different.
"In other cases horses presented as yearlings were in fact much older. These animals were humanely slaughtered and destroyed."
Ossory Meats has been suspended from operations.
BBC NI Spotlight revealed that concerns had been raised in March 2012 in an email to the authorities in the UK about alleged issues with horse passports in Ossory Meats.
Written by a whistle-blower in Ireland, the email was sent to person in the UK who subsequently forwarded the email to the Department for Environment, Food and Rural Affairs (DEFRA).
The allegations named specific individuals associated with Ossory Meats and alleged illegal practices.
DEFRA confirmed that they received the email and said that it would be 'normal practice' for them to alert the Irish Department of Agriculture of such allegations.
The Department of Agriculture in Dublin told Spotlight that they weren't aware of the allegations but confirmed that a number of horse passports removed from the premises of Ossory Meats were being examined as part of a wider investigation.
When asked about allegations, Ossory Meats said that their plant was "not the subject of any complaint from any of the relevant authorities".
The Irish government report described last Friday's incident at Ossory Meats as "quite extraordinary; particularly the brazenness in attempting to have these animals slaughtered at a time when controls had been enhanced in the plant in question and also when the entire horsemeat saga was receiving such intensive public scrutiny".
An investigation is under way to determine how and where the irregularities occurred.
In a statement Ireland's Agriculture Minister Simon Coveney said he was concerned by the results of the investigation at Ossory Meats, adding that the findings were "totally unacceptable".