Jim Allister warned by William Hay over Sinn Fein remarks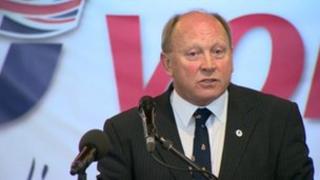 The assembly speaker has warned TUV leader Jim Allister to be more careful in future about the tone and nature of remarks he makes about Sinn Fein.
It follows a recent comment by Mr Allister while Sinn Fein MLA Pat Sheehan was speaking.
Mr Allister asked: "How much of the £26m from the Northern Bank robbery did you get?"
Assembly Speaker William Hay began proceedings on Tuesday by asking Mr Allister to clarify the comment.
Mr Allister said he was speaking about Sinn Fein as a collective.
Mr Hay asked Mr Allister several times to clarify before issuing his warning that "standards must not fall in this assembly".
He then warned him he would deal with Mr Allister "a lot stronger" in future if he continued to make similar allegations either about a party or individual.
Sinn Fein demanded Mr Allister withdraw the allegation.
Caitriona Ruane claimed Mr Allister had made it worse, as the claim was now directed at 29 Sinn Fein MLAs.
The Speaker did not press the matter however, saying that "these are complex issues".