Sinn Fein bid to block abortion move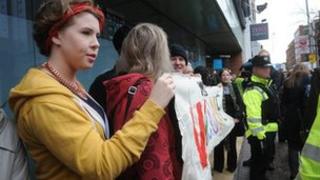 Sinn Fein is to oppose a DUP/SDLP amendment that would prevent abortions outside the NHS in Northern Ireland.
MLA Caitriona Ruane said her party would join Alliance and the Green Party in opposing the amendment to the criminal justice bill.
She said Sinn Fein was "not in favour of abortion" but termination should be available where a pregnant woman's life was in danger.
The amendment is due to be debated in the assembly on Tuesday.
Ms Ruane said that in circumstances where a pregnant woman's life was in danger, Sinn Fein believed the option of termination should be available.
"Unfortunately this amendment, which was introduced at the last minute, is not about protecting women's health, it is about undermining a pregnant women's ability to receive emergency treatment in life threatening circumstances," she said.
"That is why we will oppose the amendment. This is a view held not just by Sinn Fein but is one which is shared by parties and individuals across the assembly chamber."
The petition of concern, the move that opposes the amendment and was backed by the three parties, was submitted on Monday.
"We approach this complex issue with compassion and understanding and respect, conscious of strong and sincere views held on all sides and we hope that tomorrow's debate will be conducted in this manner," Ms Ruane said.
Green MLA Steven Agnew said: "This amendment is ambiguous and unclear and if passed would likely lead to further confusion and inappropriate restrictions."
Meanwhile, 100 people have signed an open letter admitting that they have broken Northern Ireland law by taking illegally-procured abortion medication, or have helped others to procure it.
The signatories said that the attempt to change the law was to effectively close down the recently-opened Marie Stopes clinic in Belfast - the first private clinic to offer legal abortions in Northern Ireland - and was also an attempt to close down debate on abortion.