Five police officers hurt during rioting in Newtownabbey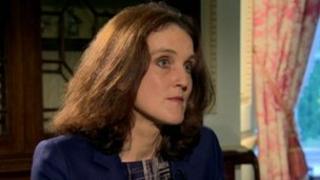 Loyalist rioting in Glengormley in which five police officers were injured was "totally unacceptable", the Northern Ireland Secretary has said.
Theresa Villiers was speaking about violence at Carnmoney Road on Friday when up to 100 people attacked police.
They threw bricks and bottles and set a car on fire. A building that houses the constituency office of Justice Minister David Ford was damaged.
"The actions of those involved were shocking," Ms Villiers said.
"It is totally unacceptable that policemen were injured as they went about their duty protecting the whole community.
"These protests must come off the streets and allow Northern Ireland's political leaders to work together towards a resolution."
Police have said "a very small minority intent on causing disruption and harm" were behind Friday night's violence,
None of the injured officers needed hospital treatment. The premises of a health and safety consultancy on the first floor was badly damaged - almost all the windows were smashed.
In a statement on Saturday, the Police Service of Northern Ireland (PSNI) said an investigation into the violence was under way.
Ulster Unionist Party councillor Mark Cosgrove said a union flag protest which had been held in the area two hours earlier had been peaceful.
Alliance Party councillor John Blair said: "I wholeheartedly condemn the actions of those involved in tonight's violence. There is no place for this unacceptable behaviour in our society.
"No doubt the people who caused what looked like a planned outbreak of violence had a clear intent to disrupt community relations," he said.
The middle ground Alliance Party has been targeted in previous loyalist violence linked to flags protests.
East Belfast MP Naomi Long received a death threat and councillors' homes were attacked in Bangor and Newtownards.
On Monday 3 December, Belfast City Council voted to fly the union flag at city hall only on designated days.
Nationalists at Belfast City Council had wanted the union flag taken down altogether, but in the end voted on a compromise from the Alliance Party that it would fly on designated days.
Unionists said they consider the changes to be an attack on their cultural identity. A loyalist protest outside the building erupted into violence minutes after the motion was passed.
Alliance holds the balance of power on Belfast City Council, and could have voted down the original motion to remove the flag on all days.
Instead it came up with a compromise, suggesting that the union flag should be flown only on designated days.
Street protests have been held since the council took the decision.