25,000 housing executive tenants currently in rent arrears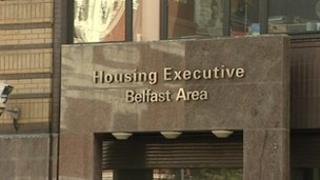 The Housing Executive in Northern Ireland has revealed that almost a third of their tenants are currently in rent arrears.
Of the 88,000 housing executive tenants the organisation estimates that 25,000 of them owe rent to the organisation.
The average debt per household is just under £500.
The executive has said it is also concerned by the increasing numbers of tenants depending on pay-day loans and doorstep lenders to pay their rent.
John McPeake, chief executive of the Housing Executive, said around 5,000 tenants in Northern Ireland relied on pay-day loans to pay their rent.
Mr McPeake said: "Many social tenants in Northern Ireland are elderly, disabled or without work and indeed four tenant households out of five have nobody in paid employment.
"Those people on the economic margins can't access the routine finance that others may be able to often feel they have no alternative but to turn to pay-day lenders or other doorstep lenders."
Mr McPeake also raised concerns about unregulated money lending taking place in some estates.
"We believe roughly 5,000 of our tenants rely on pay-day lenders to pay their rent but beyond that, we have a particular problem here of unregulated door-step lenders who are coming along, often, it is alleged, connected to a criminal fraternity and they are putting tenants under extreme duress," he said.