Ulster Bank to reimburse customers who lost cash over computer glitch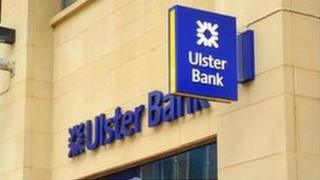 The Ulster Bank has said it will reimburse any customer who was left out of pocket as a result of computer problems on Wednesday night.
The bank apologised to customers reporting difficulties using bank cards and making online transactions.
It described the failure as unacceptable but said it was not related to the major IT crash last summer.
RBS, the bank's parent company, said the glitch had been resolved.
However, some people reported problems afterwards.
Royal Bank of Scotland and Natwest customers were also unable to withdraw cash for several hours on Wednesday.
Last summer, computer faults caused weeks of disruption for thousands of Ulster Bank customers.
Customers were unable to withdraw cash or access their accounts for weeks after a software upgrade on 19 June last year.
More than £18m was paid out in compensation to 300,000 people in Northern Ireland affected by the fault.
'Disappointed'
The latest glitch is understood to be part of a UK-wide problem affecting the RBS banking group.
In a statement on Thursday, the Ulster Bank said: "We are disappointed that our customers faced disruption to banking services for a period yesterday evening, and apologise for that.
"All services are now running as normal again. If any customers are having continued difficulties please call 0800 231 232 between 9am and 6pm so we can resolve their issues.
BBC Northern Ireland business reporter Colletta Smith said the problems began across the RBS network at 22:00 GMT on Wednesday, affecting Nat West, Royal Bank of Scotland and Ulster Bank customers.
"Bank cards were being swallowed by bank machines, and there were problems with the online and telephone banking systems," she said.
"The bank said the issue was resolved by 01:00 GMT on Thursday although they did not say what the problem was.
"It is worrying for customers as last summer many went for weeks without access to their money because of a backlog of problems caused initially by a computer glitch."
Hear more on the Ulster bank problems on BBC - Podcasts and Downloads - NI Business News